In September of 1925, the Coraopolis COGIC had a unique beginning at the home of Elder and Mrs. Curtis Goodnight. Sister Alma Goodnight began to have songs, prayer and testimony meetings on her back porch. Then when the fall weather became too cool, they moved into her back room at 832 Penna. Ave. In a few nights the Lord began blessing. many saints from across the river came to help. Sister Hester Lynn, Sister Geneve Lawson, Brother Babe Thurman Goodnight, Bro Moses Fisher Sr., Bro Herbert and Birdie Goodnight and many others from the fire baptized holiness church, Sewickley, Pa. Sister Alma asked Elder Frank Roberts, Assistant Pastor at 2502 Center Ave., Pgh. to send a minister to take charge of the cottage meeting. On October 1925, he sent Elder C.T. Stanback who came with a mind to preach, sing, and suffer for the great cause in getting a new church here in Coraopolis.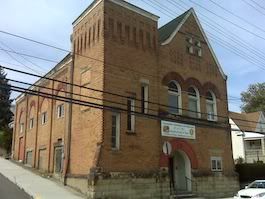 On November 19th , two souls were saved: Lula Mae Buntin and Barthena Carrol. The congregation of seven rented the community hall for $25.00 per month from Mr. Rand Gentry. The saints came from Pittsburgh and blessed and prayed with and for us. Bishop C.H. Mason too came to encourage us. Shortly thereafter, $600.00 was paid for the church site, at 914 First Avenue and the membership began to increase. On June 12, 1927 the cornerstone was laid. Bishop O. T. Jones officiated the special dedication services in July of 1931. The Lord had taken the congregation from a "house church", to a mission and finally a church building. The first baptismal ceremonies were held in the Ohio river at Main Street.
On October 14, 1934 following the resignation of Pastor Stanback, Pastor A.V. Blackwell took up the reigns with his bride, Dora Lee Dorsey, from New Castle, Pa. The years were lean financially, but love and unity abounded within the churches and the community. Mother Earlean Goodnight and the Deacons Willard Goodnight and Lonnye Davis saw that all debts were paid in full. That was Pastor Blackwell's desire, although he didn't know that his mission was finished; he died on March 3, 1948. His brother, Elder James Blackwell eulogized his funeral. Pastor William Moncrieff In April of 1949, Bishop O.T. Jones, Sr. appointed Elder William J. Moncrieff to pastor Coraopolis COGIC. The congregation welcomed his lovely family who proved to be inspirational and courageous. The church was at its best spiritually, financially and numerically. The Lord sent a soul saving revival thru Pastor Moncrieff and things began to change. The late Mr. & Mrs. Bennie Cekovitch gave a parsonage to the church. Prayer warriors and missionaries were called and appointed to teach the word. A Mother's Board was formed with Mother Minnie Buntin, Florence Dye (2nd church Mother), Mother Juanita Bland, Mother Myrtle Davis, and Mother Razzie Lee Dean. Mother Irene Jones became the 3rd Church Mother.
In 1950, the lot adjoining the church was purchased. A gas furnace was installed, the first church van and many things were done under the pastorate of Elder William J. Moncrieff. The building at the corner of State and Fleming, 1046 State Avenue, was purchased. The building was remolded and dedicated Sunday February 18, 1979. The church grew and Artegious Moncrieff became the 4th Church Mother. However, on March 1993, the Lord called Pastor Moncrieff from labor to reward. His passing was a great loss to the city and to the church, because he was a man of great renown. Coraopolis COGIC was in need of a pastor.
On July 13, 1993, Bishop G.E. Vaughn appointed Elder Morris Davis as the pastor. At no time in the history of the church had the congregation faced such a period of unrest. Once again the church was at its lowest spiritually, financially and numerically. Under the spiritual leadership of Pastor Davis, many souls were saved and the membership began to grow. Deacon Charles Watkins (Chairman) and Deacon Leo Harper were appointed by Pastor Davis. Mother Lucy Holmes became the 5th Church Mother. Pastor Davis organized several ministries (Vacation Bible School, Mime Ministry, healing & prayer services on Wednesday nights) in the church as well as physical improvements; new church windows, carpeting, and a high lift chair were all purchased and installed. Elder Selbie Jones and his wife Barbara and daughter Deanna joined the Coraopolis COGIC family in 2000. As an associate minister, Elder Jones served faithfully & humbly visited the sick, preached God's word and was instrumental in the Sunday School Department.
In 2002, Pastor Morris Davis suffered a stroke. The church experienced a season of division and unrest. In January 2004, Pastor Davis requested that Elder Selbie Jones be appointed his assistant to carry the church on. Elder Jones encouraged the saints to strive lawfully as a good soldier. (1 Timothy 2: 5) Once again the church was at its lowest spiritually, financially and numerically. In March of 2005, Bishop James M. Foster emeritized Elder Morris Davis and appointed Elder Jones as Pastor. Immediately, Elder Jones established a daily prayer service one hour each day. His desire was to have prayer continually in the temple of God, because "with God all things are possible" as we strive together to rebuild our church spiritually, financially and numerically.
Amidst physical ailments and declining health, Elder Jones made a visit to Bishop Foster in the summer of 2007 and for the sake of the ministry, requested to be relieved of his pastoralship at Coraopolis. His resignation was accepted and after several potential candidates for Pastor of Coraopolis COGIC was reviewed, the membership on October 26th , 2007 voted and requested, with the acceptance of Bishop Foster, Elder Herbert Tillman as their 7th Pastor. Elder Tillman was too joined by his wife, Regina, and Daughter, Renee. To date, the membership is growing, financially, we are at our best and the Lord is glorified! The best is yet to come!
Coraopolis C.O.G.I.C. Leaders Throughout History